Discover Your Own Private Paradise at Oceans Edge in St. Kitts
Welcome to Ocean's Edge, the epitome of luxury and elegance in St. Kitts. Our resort isa hidden gem nestled on 40 pristine acres where the land, sea, and sky meet, offering you a breathtaking view of the turquoise waters and the fine sandy beaches. Whether you are a family seeking a relaxing vacation or a business professional looking for a serene retreat, we have everything you need to make your stay unforgettable.
Located in the heart of the Leeward Islands, St. Kitts is an ideal destination for your second home. Our beachfront development in Frigate Bay is just minutes away from the Basseterre city center, making it easily accessible while still maintaining its secluded charm. The island is renowned for its sunny skies, vibrant reefs, and crystal-clear waters, providing endless opportunities for water sports, sunbathing, and exploring the island's natural beauty.
At Ocean's Edge, we offer a range of accommodation options designed and decorated for the best of outdoor and indoor living. Our luxurious condominiums are equipped with modern amenities and feature stunning views of the Caribbean Sea. Whether you choose a one or two-bedroom unit, each is uniquely designed to ensure comfort, relaxation, and privacy.
Our resort boasts several world-class amenities, including a private beach, plunge pools, golf carts , 24/7 security and shuttle services, to name a few. While on island there are a range of activities and excursions, such as snorkeling, fishing, island tours, and spa treatments, to cater to your every need and interest.
In addition to our outstanding facilities, Ocean's Edge is known for its warm and welcoming staff, who are dedicated to providing you with exceptional service and making your stay unforgettable. Our team is committed to ensuring that your experience with us is nothing short of perfect, from the moment you arrive until the time you depart.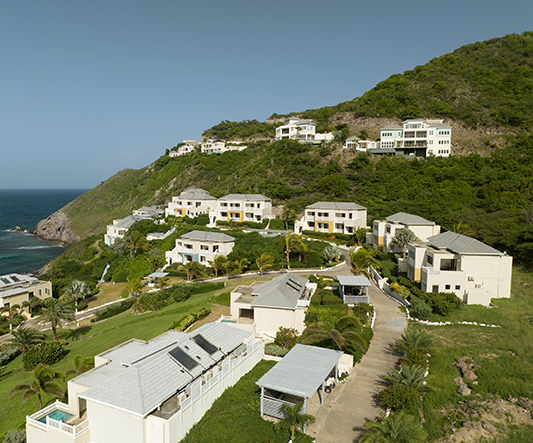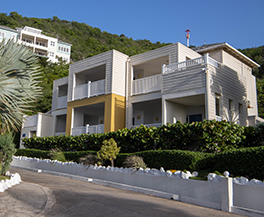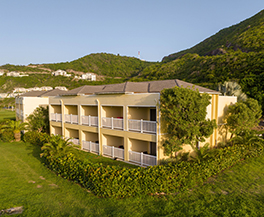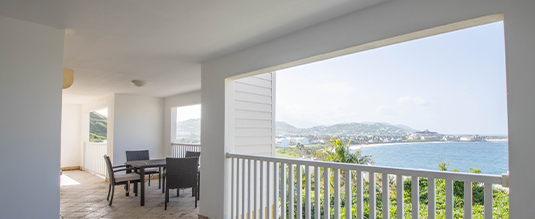 Conveniently located near entertainment and activities.

Breathtaking views of land and sea.

Steps away from the beach.

Indoor and outdoor living at its best.

Ideal for short and long-term stays.

Minutes from downtown Basseterre.

Diverse dining options nearby.

Luxury Accommodations - Affordable rates.

Flexible Rental Options
Looking for a quick weekend escape or a longer-term stay? We've got you covered with both short-term and long-term rental options.
Choose from our three luxurious accommodation types: Hillside two-bedroom, beachfront studios, and garden view studios. Each room is carefully designed with your comfort in mind, ensuring a truly luxurious and relaxing stay.